Learn about IBM Databand and Turbonomic, followed by golf, gourmet food, and cold drinks!
Join DAI Source for interactive sessions to learn how IBM leverages AI to support best of breed observability and application resource management, followed by golf, gourmet food, and cold drinks.
AGENDA
5:00-5:10pm Welcome & Introductions
5:10-5:30pm Keynote Speaker: Observability – Why Automation?
5:30-5:45pm Data Observability
5:45pm-6:00pm Application Resource Management
6:00-8:00pm Golf, Drinks, & Food
8:00pm Closing
PREVENT DATA INCIDENTS
Continuous data observability is the key to preventing data incidents. In contrast to other solutions that solely monitor data-at-rest within your data warehouse, Databand offers a comprehensive data observability approach that seamlessly integrates with every stage of your data lifecycle, beginning from the source data.
ACHIEVING PERFORMANCE/COST EQUILIBRIUM
As companies lean into a cloud-first strategy, finding the balance between performance and cost on a continuous basis has become a critical responsibility of IT. Turbonomic was created to do just that- assure the performance of your business applications automatically, no matter where or how they are hosted, through application resource management.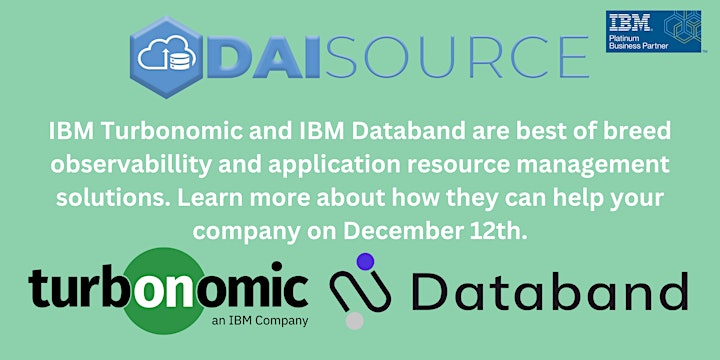 DAI Source is a noted technology and solutions firm based in Irving, Texas providing consulting services in Data Management, Analytics and Security Solutions to a broad range of clients across the U.S.