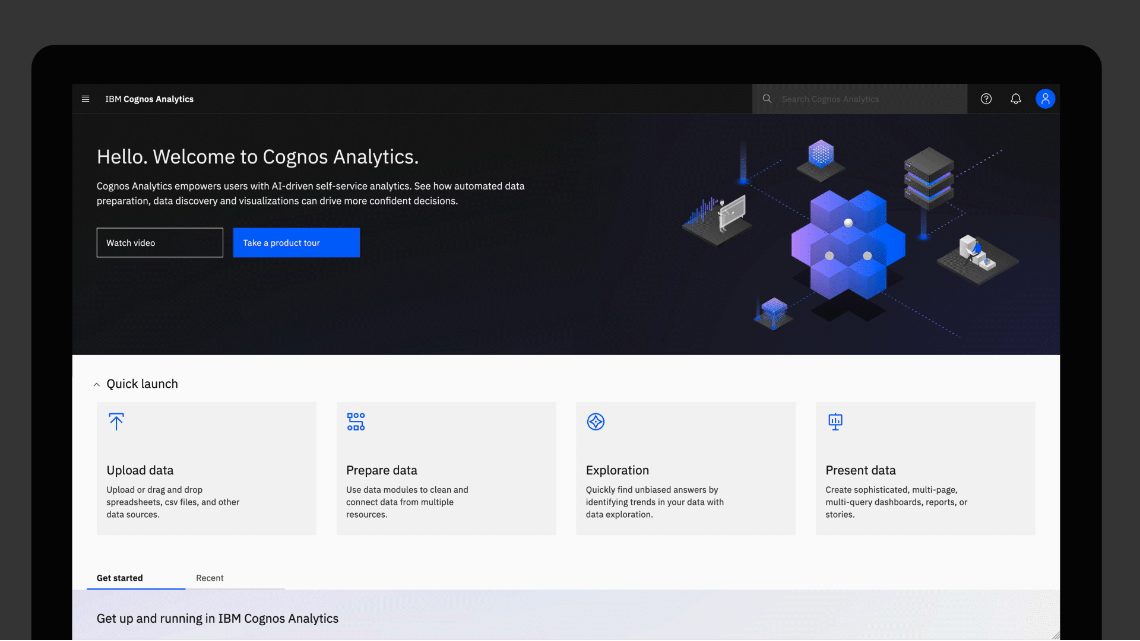 IBM Cognos Analytics provides a powerful tool to understand data and make better decisions.
Cognos Analytics with Watson takes BI a step further with AI capabilities that not only bring an accurate, trusted and complete picture of your business, but forecast what's coming in the future, predict outcomes and explain why they may happen.
Visualize and Report on Your Data
IBM Cognos Analytics gives you all the tools you need in one place for faster, more reliable data prep and reporting.
Build Visualizations
Quickly create compelling, interactive dashboards. Drag and drop data to create auto-generated visualizations, drill down for more detail, and share using email or Slack.
Identify Patterns
Ask the AI assistant a question in plain language, and see the answer in a visualization. Use time series modeling to predict seasonal trends.
Generate Personalized Reports
Keep your stakeholders up-to-date, automatically. Create and share dynamic personalized, multi-page reports in the formats your stakeholders want.
Gain Insights
Get deeper insights without a data science background. Validate what you know, identify what you don't with statistically accurate time-series forecasting and pinpoint patterns to consider.
Still have questions? Send them our way and an SPSS Statistics expert will get back with you by chat, phone, or email.
DAI Source is a noted technology and solutions firm based in Irving, Texas providing consulting services in Data Management, Analytics and Security Solutions to a broad range of clients across the U.S.